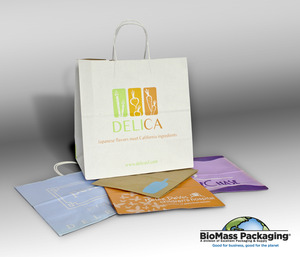 Many retailers will be surprised to learn that branded retail packaging is also going green. Now, even the shopping bag, the portable billboard of retail packaging, can now be made using sustainable materials and approaches. And, even more surprising, it looks and feels as good as the not-so-sustainable alternatives.
Take a look at our 100-percent-recycled paper shopping bags with twisted-paper handles that we've just added to our range of planet-friendly retail packaging products. They're designed for retailers that want to project a strong commitment to environmental stewardship. The Forest Stewardship Council certifies these attractive and sturdy shopping bags, and they're available in natural Kraft color or printed with a custom logo or branding message.
Our Tulsakraft Versa bag is unique in the retail packaging industry. It uses a paper that is white on one side and Kraft on the other. Either side can be on the outside, and is suitable for custom printing. Excellent Packaging's partnership with Tulsack gives retailers access to one of the most advanced printing plants in the country.
These bags project a strong environmental statement
Discerning shoppers appreciate retailers that provide shopping bags that are both aesthetically appealing and environmentally smart. When they first pick it up, consumers quickly recognize that the Versa bag is no ordinary paper shopping bags, which adds a powerful element of differentiation to the brand printed on the bag. Retailers can also take advantage of our custom print shopping bag service and feel confident that they are offering their shoppers a truly green and sustainable solution.
One of customers, Ayako Simmons, manager at DELICA in San Francisco, thinks the bags send the right message: "We use custom-printed Tulsakraft Versa bags for boxed deli items because this fits with our focus on sustainability and local foods. The bags look sharp and are the perfect size, and of course are a green alternative to plastic bags," she says. DELICA is a San Francisco-based delicatessen that offers California-style Japanese food.
Just add your branding
Currently, Excellent Packaging is providing an extraordinary service package not usually available to buyers of custom printing on shopping bags. Unitary pricing for prints of up to 3 colors makes it cost-effective for businesses to showcase their brand in the best manner possible, and Excellent Packaging's "100% Shipping Performance Guarantee" means that if a custom-printed bag does not ship by the date promised, there will be no charge for the bags themselves.
Ordering information
The new Tulskraft Versa bag and the natural Kraft bag can be ordered direct from Excellent Packaging (www.excellentpackaging.com). We will print the exact quantity ordered, with no over- or under-runs. We also pay for the printing plates and shipping for the first order of a new print, and will print up to 100 percent coverage in 1-3 inks for the same price. A merchant can order as few as 2,500 bags, with discounted pricing for volume orders. Smaller, trial order quantities are available on request. To learn more about the range of bio-based, sustainable catering products offered by Excellent Packaging, or to enquire about volume pricing, call (800) 317-2737 or email [email protected]