Leafware®
Leafware® is driven to making our world greener and making it safe for our children, for many generations to come. They are constantly searching for new ways to find ancient solutions for the modern world, with their attention focused on ecologically safe and sustainable products.
A Simple and Transparent Process
Leafware® uses naturally shed leaves to produce an eco-friendly, versatile and elegant dinnerware. The fallen leaves are carefully harvested, hygienically cleaned; pressure washed, scrubbed and sun dried. Then pressed into various shapes to form plates, bowls and trays. Usage of fallen leaves eases the economical pressure to cut down trees and therefore preserving out planet's true identity. Leafware products are sustainable produced and provide a source of living for many families in small communities of South Asia.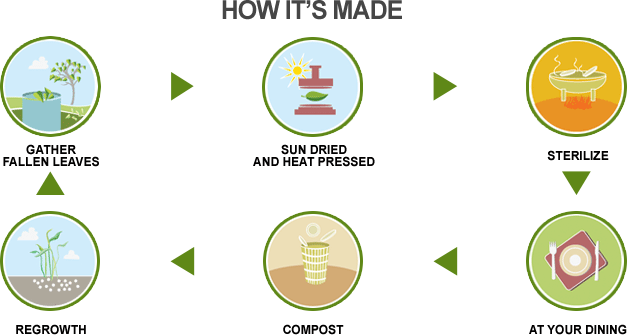 As each leaf is a singular creation from nature, their colors and hues range from whites and pearls to light beiges, browns with natural grains and silver strains running through them. Available in an assortment of shapes and sizes to suit all your food serving needs, their beauty will lend style and grace to any table or buffet. As our products are derived from a natural source, slight variations in color and thickness occur as each frond is different from every other one.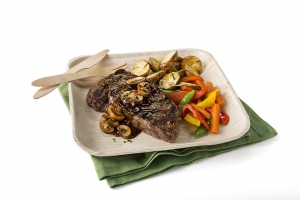 If used at home or for parties and festivals just use them and put them in the backyard compost or dispose of them as you would any other compostable product.
Facts, Features and Why You'll Love Leafware®
Made from only fallen leaves and water

Non-toxic — no chemicals, plastics, glues, lacquers, or veneers

Durable yet lightweight

Can hold hot or cold foods and liquids

No heat transference

Maintains shape when in contact with hot substances

Microwave-safe up to 2 minutes on high

Oven-safe for up to 45 minutes at 350 degrees at least 6" away from heat source

Refrigerator and freezer-safe

BPI and ASTM D6400 certifiied for compostability