World Centric was founded in 2004 to raise awareness of large scale humanitarian and environmental issues and to promote sustainable alternatives to every day consumption choices. They've hosted award winning documentaries and speakers on environmental, social, human rights and peace issues, offered courses on sustainability, simple living and globalization and worked on a Conscious Living guide.
In order to be a self-sustaining organization, without requesting donations or grants, World Centric began selling Fair Trade products and compostable products in the beginning of 2005. In addition to providing sustainable compostable products, they are working towards making World Centric a model of how sustainable enterprises should be run. In 2010, for example they offset all their carbon emissions, and gave 32% of thier profits before taxes to grassroots social and environmental organizations, and hope to move towards giving 100% of their profits.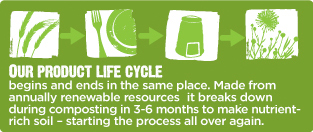 World Centric provides high quality compostable food service disposables and food packaging products for use in schools, corporate cafeterias, restaurants, hospitals, parties etc. Their products are made from annually renewable resources like corn, sugarcane, and wheat straw fiber, some of which are by-products of the agriculture industry. They use these materials to make sustainable alternatives to plastics and Styrofoam.
World Centric prides itself not only in it's provision of sustainable and compostable goods, but also in it's commitment to operating sustainably. A key part of being a leading supplier of compostables in the industry is also recognizing that our every action in making compostables has a consequence. Global climate change is one of the most serious issues facing humanity, and we are doing our part to help contribute to the lowering of carbon emissions that come from the manufacturing of our product. While our products require less energy in production, we are still committed to reducing the emission of carbon throughout the entire life cycle of our compostable goods.