Bio-based cellulose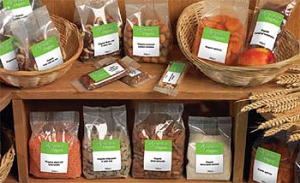 NatureFlex™ uses films that are  based strongly on renewable resources. Most renewable bioplastics come from materials such as corn, potatoes or wheat. However,  NatureFlex™ films are based on cellulose. Cellulose is one of the most naturally abundant organic material.
This cellulose is derived from renewable wood pulp that has been sustainably harvested. NatureFlex™ films are certified ASTM D6400 for bio-based content, and depending on the grade of film, the bio-based content can vary from 90% to 99%.
High standards, high performance
NatureFlex™ provides suitable packaging for a wide variety of food service products, such as, to-go, confectionary and bakery item.  Resistant to grease, oil and fats, the films are microwave and conventional oven safe (recommended maximum 390ºF, 30 minutes).
The film features a unique heatseal resin on each side and has a super wide range. This leads to fantastic machine performance. NatureFlex™ static-free films can used on many different packaging machines, including flow-wrap and overlap.
NatureFlex™ films have a coating that can be tailored to varying degrees of moisture barrier. This helps maximize the shelf life of your products. The deadfold is spot on and the gloss of the film enhances the presentation of the products.
Commitment to sustainability
NatureFlex™ films are fully certified to the American (ASTM D6400) and European (EN13432) norms for 100% compostable packaging. Proven to be suitable for home composting, they are also marine degradable.
Futamura is one of the most innovative global companies in the films industry today, with a supreme depth of knowledge both of its products and its markets. Their success lies in their specialist skills in BOPP and cellulose film development, production and coating, meeting customer needs through strong research and development and high quality products.