You've never seen green clean like this before
Earth Friendly Products is the leading, primary US manufacturer of 100% sustainable, plant-based cleaning products, all which deliver astounding power and performance. A family owned business since the 1950s, today they have international distribution of a retail line of over 60 household products, an industrial/bulk Pro-Line of over 25 products (EFP Proline), and a Natural Pet Care Line of 16 items.
Pure, simple, pronounceable ingredients
Earth Friendly Product uses the best materials and maintain the strictest environmental standards surpassing the industry's currently green credentials. Their products are made from natural organic plants and renewable minerals such as lemon oil, olive oil, lavender, coconuts, cedar oil, parsley essence, earth salts, cotton blossom oils, and tea tree oil.
Ingredients are researched for what's called 'Responsible Sustainability', such as: Is this from a rainforest? Is it needed in the area to sustain any endangered wildlife? Are workers given a fair wage for their labor?
Earth Friendly Products uses as many N.O.P. Certified Organic essential oils as possible. The products then go through an intense testing process both in-house and with consumer testing agency. They are then submitted to third party testing. Every cleaning product is formaldehyde free and the result of research and development.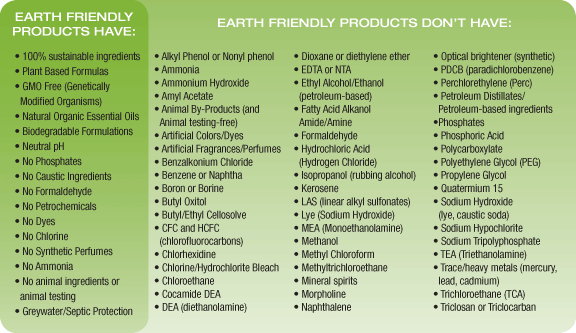 Third Party Recognitions
The Environmental Protection Agency considers Earth Friendly Products to be a leader with its Safer Detergents Initiative, or SDSI. Earth Friendly Products is committed to using safe surfactants. Surfactants are the wetting agents in detergent that break down and help protect plant and animal life in fresh and salt water. Earth Friendly Products are all non-toxic, phosphate free and contain neutral pH.
Earth Friendly Products' ingredient labels are the best validation of the environmental purity and sustainability of their formulas. The EPA's DfE program (Design for the Environment) and the USDA's BioPreferred program are two of the most reputable and unbiased long-term partners to evaluate and recognize EFP's products. Additionally, the American Culinary Institute gave EFP their Gold Performance award for best citrus based cleaner.
Clean, green, and made in the U.S.A.
Earth Friendly Products are produced in five strategically located manufacturing centers across America. They hire locally and aim to buy locally, with an eye to strengthening each community. In each community, they have long-standing relationships with employees and some families have worked for EFP for generations. Earth Friendly Products believes in supporting the American workforce – so they don't contract manufacturing out to foreign countries.
Earth Friendly Products was the first company to eliminate 1,4 Dioxane — a carcinogen — from all products, as well as formaldehyde, a pernicious toxin. Earth Friendly Products is an industry leader as they were the first to discontinue using salts in their products. This protects the water supplies.
WAVE® Gel is a newly introduced neutral pH dish washing solution. Earth Friendly Products also boasts the top selling green laundry product worldwide — ECOS® laundry detergent.