Changing The World Without Changing The Earth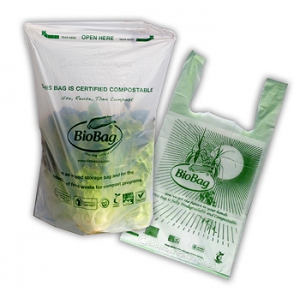 BioBag® is the world's best selling brand of 100% certified compostable bags and films made from the bioplastic material, Mater-Bi. BioBag® products are made from starch, plant-based polymers and other renewable resources. No polyethylene is used in the production process.
BioBag® was the first "bag from corn" to achieve national distribution of retail products through natural food stores across the country.
Nature Knows The Difference
BioBag® uses only sustainable crops for their bags, and prints them with soy-based inks and dyes that are DEN certified for restricted use of heavy metals.
BioBag® products meet ASTM D6400 compostability specifications as well as stringent California Law requirements, and are also DEBIO certified for use in organic agriculture.
Did you know…
…that the city of San Francisco selected BioBag® to promote their residential food waste collection program? They sent 100,000 rolls of BioBags to residents within the county to help educate consumers about the importance of diverting food and other compostable waste from entering landfills. BioBag® is proud to be a partner in this important effort.
Facts and Features
No polyethylene is used in production

BioBags are DEN certified for restricted use of metals in our soy-based inks and dyes.

BioBags "breathe", which allows heat and moisture to escape or evaporate, reducing bacterial build-up of collected waste thus reducing odor

No chemicals are added to BioBags to enhance decomposition — they breakdown naturally when exposed to the earth's elements and micro-organisms in the soil

BioBags are certified by the Biodegradable Products Institute to meet the ASTM D6400 specifications for compostability

BioBags meet California laws SB 1749 and SB 1979, for compostable product claims

BioBags will decompose in a controlled composting environment in 10-45 days, leaving no harmful residues behind