There was a time when plastic cutlery and utensils were used exclusively for making and eating food. While that is still their primary use, there is a new movement to turn these everyday items into some pretty fabulous works of art. This unique take on upcycling plasticware results in some really fun (and sometimes funky) items. We've put together a list of 8 of our favorite crafts you can do using plastic or Compostable Cutlery and Utensils.
1. Spoon Mirror by Country Living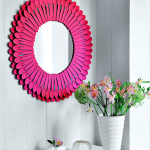 Country Living did a DIY blog a while back that focused on mirror crafts. Less of a craft and more of a decoration, one of their suggestions was to spruce up a plain mirror with a fun spoon frame. They suggested using pre-colored spoons, but the same effect could be achieved by spray painting ordinary plastic or compostable spoons any color you wish.
2. Chrysanthemum Mirror by Addicted 2 Decorating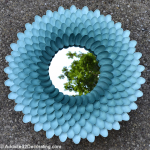 While somewhat similar to the Country Living mirror, this crafty decoration by Addicted 2 Decorating is a little more complex and offers a completely different look. The different colors add an extra depth to this craft that isn't present in the Spoon Mirror.
3. Spoon Roses by MadeByMarzipan.com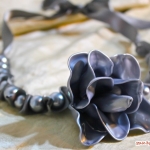 Over on Made by Marzipan, they've created some truly stunning pieces of art using not much more than plastic spoons and heat. The heat warps the heads of the spoons which are combined to create a flower that can be added to other cutlery, necklaces, hair clips, and more.
4. Pineapple Lamp by Craft Foxes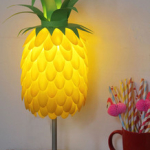 This pineapple lamp made from plastic spoons is found over on CraftFoxes.com. It's a little bit more funky than the other crafts so far, but definitely a fun addition to your summer craft projects.
5. Christmas Trees by One Project Closer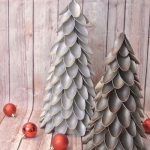 Yes, we know it's not Christmas time, but these fun little trees by One Project Closer can also be a fun summer craft. All you have to do is paint them in shades of green and you can feel like you're working on arts and crafts at summer camp.
6. Spoon Vase by All You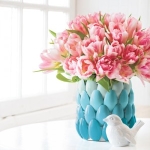 It's not quite summer yet, but spring is finally warming up. That means flowers and vases. This fun vase by All You is a simple way to display the beautiful flowers that are starting to spring up.
7. Easter Egg Maracas by Dana Made It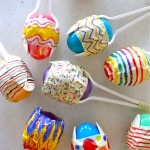 Easter was just a few weeks ago, so you've probably got some plastic easter eggs floating around your house. If you do, you should use them to make this fun craft from Dana Made It. These fun noisemakers can be used for Cinco de Mayo or just for fun.
8. Spoon Bugs by Handmade Charlotte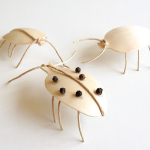 Our last craft, these fun little bugs from Handmade Charlotte, are actually made from wooden spoons in the tutorial. It would be simple enough, however, to substitute plastic spoons in their place if you can't find wooden spoons. The critters can be as wild or as tame as your imagination.
As you can see, plastic cutlery isn't just for eating anymore. What's your favorite craft that involves plastic or compostable cutlery and utensils?