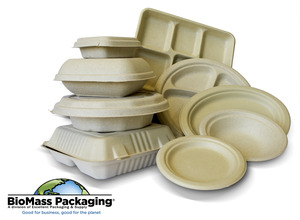 We recently announced a new line of foodservice products designed specifically for caterers and take-out operators. Made by Bridge-Gate, we now offer a complete range of compostable serving ware and take-out packaging made from 100-percent renewable resources.
In this interview, Allen King offers some additional insight into the benefits and potential applications of this innovative product line.
Allen, why should foodservice operators consider compostable containers?
These days, many restaurant diners are rather surprised when restaurants and delis provide foam-based containers for take-out food. Many consumers are now well informed on the problems associated with polystyrene foam. For example, they know it cannot be recycled and degrades very slowly in landfills. So, if you're a grocery store, deli or restaurant looking for heat- and moisture-resistant packaging for to-go situations, you might want to consider offering your customers planet-friendly packaging.
What bio-based solutions are appropriate for take-out and to-go situations?
Bagasse is one alternative. Bagasse is made from pulp that's a by-product of sugar cane production. It is considered a renewable resource and can be transformed into a bio-based molded container that performs pretty well in foodservice and serving ware applications. But it does have its downsides: its carbon footprint is not among the lowest in these categories, due to a long production cycle and inefficient factories. Also, in some conditions, it has a tendency to "sweat" — especially when it's used to contain hot, moist food.
We think that wheat-based serving ware and containers manufactured by Bridge-Gate are a terrific alternative to other bio-based products. They are made entirely from GMO-free wheat by-products, and are specifically designed to replace foam- and pulp-based products used by caterers, take-out restaurants and foodservice operators. But the best news is that they are 100-percent compostable — both for home composting and municipal composting.
What makes the Bridge-Gate products unique?
All the Bridge-Gate products offered by Excellent Packaging are made in factories that are ISO 14001- and ISO 9001-certified. Bridge-Gate pulps its raw material with an exclusive, patented zero-pollution bio-pulping process. This is chemical-free, requires very little water, and has a completely self-contained washing process. Once pulping is complete, the material pumps directly into production of the finished goods. By eliminating the pulp-drying process, Bridge-Gate uses less energy and less water.
To further reduce the carbon footprint of the Bridge-Gate range, each product is designed to fit into the smallest carton possible. The shipping cartons themselves are also designed with maximum efficiencies in mind; smaller cartons means more cartons can be loaded onto the truck, which means less fuel used and fewer carbon emissions. The result is a consistently high-quality, bio-based foodservice product that is compostable and has been produced with utmost concern for the environment.
Where do you see the Bridge-Gate products being used?
The collection is diverse and should meet the needs of most every caterer, take-out restaurant, deli or foodservice operator. We offer plates, bowls, clamshells and hinged containers, trays, platters and lids. We think our customers will benefit by gaining access to this innovative line, which will allow them to upscale their presentation of their food offerings. For example, caterers now have a more attractive and unique environmental place setting to offer their clients, and organic restaurants can enhance their image with to-go containers that are environmentally sustainable.
To learn more about the range of Bridge-Gate products offered by Excellent Packaging, visit the Bridge-Gate page on BioMassPackaging.com. Volume pricing is available, for details call (800) 317-2737.