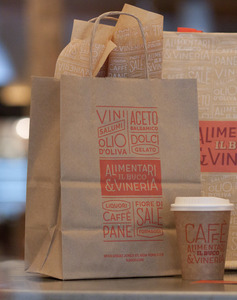 Here's my prediction for 2012: we'll see less use of the word "greenwashing." Why? Because any company or brand that's serious about adopting sustainable business practices will have already integrated environmentally conscious attitudes into not just their back office and customer-facing operations but also into their core brand value proposition. Similarly, these companies understand that customers and business partners are becoming more sophisticated about how they interpret any company's marketing and brand messages that highlight sustainability. The bar is now higher and marketers need to be able to justify their claims or risk a customer backlash if they're caught exaggerating or misrepresenting their planet-friendly goals.
There's another good reason that businesses should take their green promises seriously: a company that imbues their brand with a smart and appealing approach to sustainability can attract a more loyal and potentially well-heeled clientele that is willing to pay more for products and services that align with their own beliefs and practices. This is certainly the case in the restaurant business, where the owner's and chef's personal approaches to sustainable living—such as locally sourced and organic produce, fish, meat and other ingredients—can be highlighted as essential elements of the restaurant's brand image. It's also true that people will spend more if they feel good about where they're spending their money and the behaviors they're supporting with their wallet.
A great example of this is Il Buco restaurant in New York City. Situated in the NoHo neighborhood of Manhattan, Il Buco has developed a loyal following with locals and visitors alike for its rustic and authentic Italian dishes. For 15 years, it has occupied a former Italian antique store, and last year embarked on an ambitious expansion in the form of a marketplace and deli just around the corner from the restaurant. Called il Buco Alimentari & Vineria, the new marketplace offers a variety of house-made products, including pastas, pastries and cured meats—all crafted using traditional methods and with a focus on sustainable practices.
In keeping with their business and personal philosophies, the co-owner, Donna Lennard, and her team began a search for packaging and foodservice supplies that would showcase and complement the low-impact environmental policies embodied in their kitchen. We were delighted to respond to their request for items such as compostable hot cups, utensils, recycled paper bags and other foodservice items, which also had to fit with their branding and printing requirements. Ms. Lennard, and her design agency, Mucca Design, reviewed a wide selection of foodservice supplies, assessing them on functional, aesthetic and sustainability criteria.
We promptly reviewed Il Buco's requirements and provided samples of the best solutions to their packaging requirements. This process continued as Ms. Lennardevaluated the options we provided and narrowed down her selection to the items she ultimately ordered for Il Buco.
I'm delighted to report that Il Buco is now a customer because, in the words of Ms. Lennard:
"We wanted a specific look for everything from coffee cups to bags, and Excellent Packaging was consistently able to deliver more checks in the 'yes' column."
Excellent Packaging & Supply provides Il Buco with branded, unbleached, natural kraft paper hot cups lined with Ingeo — a bioplastic coating made from vegetable starch; clear, branded cold cups made from Ingeo; and branded shopping bags made from 100%-recycled paper, 95% of which is post-consumer and comes from a factory whose paper is FSC-certified. The overall effect projects a strong commitment to environmental stewardship. The natural color of the cups and bags is a result of the minimal processing of the paper used to make them, reflecting the short distance from nature to finished product, just like the food at Il Buco.
We also think the finished products look really classy, and feel certain that Il Buco's employees and customers alike feel good about pairing thoughtfully sourced and prepared food with thoughtfully sourced and developed packaging.