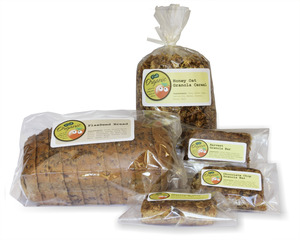 Designed for the fast-growing "food-to-go" and packaged foods markets, and developed especially for Excellent Packaging, these easily compostable bags are ideal for presentation and display of prepared foods such as confectionery and baked foods. More importantly, these food-packaging bags are a viable and practical alternative to oil-based polypropylene and PVC-coated clear cellophane bags that have traditionally been used in many foodservice applications.
Why we like our new food packaging bags
By adding a range of bio-based food packaging bags to our line of sustainable foodservice solutions, we are proving that high-performance alternatives exist to non-sustainable, clear retail food bags made from fossil-fuel derivatives. This is terrific news for supermarkets, specialty grocery stores and anyone offering to-go food: there is really no need to package your food in oil-based products since these bio-based alternatives perform just as well and deliver a powerful environmental statement.
About our new food packaging bags
These bags are eco-friendly in two ways. First, they are ecologically smart because they are made from plants that are annually renewable. They are also good for the economy because they are domestically produced — creating jobs here in the United States.
We selected NatureFlex™ as the best material for bags that will contain hot foods. Why? Unlike petroleum-based plastic films and bags, NatureFlex films are made from renewable resources. And, while most biopolymers originate from renewable raw materials such as corn, potatoes or wheat, NatureFlex films are made from cellulose — the most abundant of all naturally occurring organic materials. This cellulose itself is derived from renewable wood pulp that is sustainably harvested from FSC-managed forests. NatureFlex films are certified ASTM D6866 for bio-based content, and depending on the grade of film, the bio-based content can vary from 90 to 99 percent.
A wide range of uses in supermarkets, mini-marts, confectionery, and bakery
NatureFlex bags and sheets are suitable for packing a wide range of foodservice products in the 'food-to-go' market — from confectionery to bakery items. Resistant to grease, oil and fats, they are microwave and conventional oven safe (recommended maximum 390 degrees Fahrenheit, 30 minutes).
They offer good gas barrier properties, and the coatings can be tailored to provide varying degrees of moisture barrier, helping to maximize shelf life of the wrapped product. They have a very good deadfold, and excellent transparency and gloss to enhance product presentation.
NatureFlex films are fully certified to the American (ASTM D6400) and European (EN13432) norms for 100% compostable packaging. Proven to be suitable for home composting, they will also biodegrade in a wastewater environment.
They are made by Innovia Films, one of the most innovative global companies in the films industry today, with a supreme depth of knowledge both of its products and its markets. Their success lies in their specialized skills in cellulose film development, production and coating, meeting customer needs through strong research and development and high quality products.
What we offer — available for immediate delivery
We offer two types of bio-based and compostable food packaging bags with crystal-clear clarity that provide an upscale presentation for your ready-to-eat foods. Both bag types offer single-serve food packaging made from nature, are available in custom sizes, and can be custom-printed with your branding or message:
For hot foods and suitable for reheating in an oven or microwave, Excellent Packaging is debuting food bags made from NatureFlex. These heavy-duty bags are made from sustainably farmed and harvested trees. They are also FDA-approved for food contact, making them ideal for both hot and cold foods such as sandwiches, wraps, bakery goods, confectionery and dry snacks. NatureFlex food bags are 100-percent biodegradable and compostable either at home or municipally. They are available flat or gusseted in a range of sizes, and can also be ordered in custom sizes and with custom printing.
For cold foods such as snacks and sandwiches, Excellent Packaging is also launching a range of crystal-clear, resealable "lip-n-tape" flat food packaging bags made from NatureWorks® Ingeo™, a PLA (Polylactic Acid) biopolymer derived from renewable, plant-based resources. The bags feature a 1" lip with a strip of resealable tape. They are 100% bio-based, biodegradable and compostable in either a municipal or commercial compost environment. Available in a range of stock sizes and with custom size and printing options, these bags are also ideal for individual servings of cookies, portioned snacks or dried fruit.
Both products are manufactured domestically and available for immediate delivery on our BioMass Packaging® website in the food bags section. To learn more about the comprehensive range of other bio-based, sustainable foodservice packaging products offered by Excellent Packaging, or to enquire about volume pricing, call (800) 317-2737.