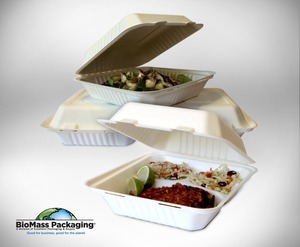 Many foodservice operators, who might otherwise use bagasse-based containers for take-out foods, reluctantly use Styrofoam or starch-filled polypropylene containers for hot or greasy foods because they don't want to risk food leakage or customer injury. But neither of these solutions is good for the environment. By working closely with PrimeLink Inc, the maker of popular PrimeWare tableware, we've designed a practical solution to the soggy food container problem that is disposable, compostable, and biodegradable.
Introducing a biodegradeable food container that handles hot and moist foods
Our new range of BagasseWare moisture-resistant clamshell containers are lined with a thin sheet of NatureWorks® Ingeo biopolymer — a polylactic acid (PLA) material that prevents moisture and grease from reaching the bagasse-based shell. The Ingeo lining gives the container superior grease and moisture resistance and ensures it retains its original shape and rigidity when in contact with hot, wet foods. These new products address a problem that has long frustrated operators of cafeterias, restaurants and to-go- establishments: the tendency of bio-based containers to soften and lose their structural integrity when serving hot and moist food.
New bagasse containers lined with NatureWorks® Ingeo biopolymer offer unique benefits
Excellent Packaging is the first distributor of foodservice solutions to offer bagasse-based catering and food-to-go products that feature this Ingeo lining. These new clamshell containers offer some great benefits to catering and restaurant managers:
Produced with sustainable, annually renewable resources (bagasse is a by-product of sugar cane production).
Eliminates moisture- and grease-related problems formerly associated with bagasse containers.
Meets ASTM D6868 testing requirements.
Meets FDA guidelines for food contact surfaces.
Microwaveable and freezer-safe.
Catering and restaurant managers love them!
We're getting some excellent feedback from initial customers. A catering manager at the foodservice operation of a large refinery near New Orleans is using them in the onsite cafeteria where he provides both in-restaurant and to-go catering to the more than 600 full-time employees who work at the plant, some of whom drop by to pick up orders for several co-workers. He's what he has to say about the new Ingeo-lined clamshells:
"Before we switched to the new PLA-lined clamshell containers, we'd get complaints from customers who had struggled to make it back to the office with a soggy stack of containers containing hot entrees or foods with sauces. They understood that we were trying to do the right thing but hated the inconvenience. I mentioned this to Excellent Packaging and was very pleased when Allen suggested I test the new clamshell containers they'd been developing. These are a huge improvement and I've received very positive feedback from the clients here at the refinery. We've now switched to the new PLA-lined containers."
What is Ingeo?
Ingeo™ is a unique, bio-based material made from plants instead of oil. It was introduced globally in 2003 by NatureWorks LLC, a company dedicated to more sustainable and environmental product and business development. NatureWorks' patented technology was the first to industrialize the conversion of sugars to bioplastics. The commercial scale of the process meant that a range of Ingeo biopolymer lifestyle products could become a real and better alternative to fossil fuel resourced products around the world today. From natural plastics for food and beverage packaging, to serviceware, consumer electronics, durable goods, and even fiber for clothing, Ingeo™ offers consumers alternatives for lifestyle products of natural origin rather than of petroleum.
NatureWorks currently uses plant sugars derived from 100% annually renewable field corn (most of it non-GMO) as the source material for manufacturing Ingeo. This corn is already grown for many industrial and functional end-uses. Ingeo uses less than 1/20th of 1% (0.05%) of the annual global corn crop today, and as such contributes little to no impact on international or local food chains. Also, Ingeo doesn't require corn, it only needs a sugar source, whatever is most readily available, depending on the geography. In the future, Ingeo will be made from cellulosic raw materials, agricultural wastes and non-food plants.
What we offer — available for immediate delivery
The new range of BagasseWare moisture-resistant clamshell containers is available from our BioMass Packaging website, in both medium (8″ x 8″ x 3.2″) and large (9″ x 9″ x 3.2″) sizes, with or without a 3-compartment interior. To learn more about the comprehensive range of bio-based, sustainable foodservice packaging products offered by Excellent Packaging, or to enquire about volume pricing, call (800) 317-2737 or email [email protected].