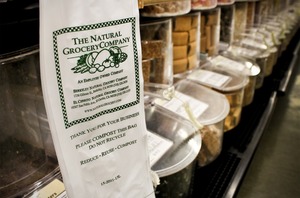 It's rather ironic that, lurking the grocery aisle of many supermarkets and grocers, is one of the most planet-unfriendly substances known to man. We're talking, of course, about the trusty plastic bag, which is generally made from polyethylene, a fossil-based plastic. And, like many plastic bags, produce bags are often single-use — many people need to dispose of them the moment they get home when they transfer their produce to the fruit basket and the refrigerator.
It wasn't easy to source a compostable replacement that met key performance criteria. Excellent Packaging's Allen King take us through the search for, and characteristics of, the new compostable produce and bulk-food bags that are now offered by Excellent Packaging.
Why aren't more grocery stores and supermarkets using compostable produce bags?
Early versions of compostable produce bags were too opaque, which made it difficult to identify the produce or bulk food inside. Our new bags address this issue since they are made from an improved version of Mater-Bi, the compostable and primarily bio-based plastic. This offers much greater clarity.
What makes these produce bags a smart choice for environmentally aware grocery managers?
We're pleased to be able to give our grocery customers access to the first new innovation in the produce bag dispensing area in years, combined with a green solution to the proliferation of fossil-based plastic produce bags. Unlike other produce bags, Excellent Packaging's bag is made primarily from GMO-free cornstarch, which is both is backyard or commercially compostable. The bags also use 50-percent fewer raw materials and require less energy to produce and ship than standard bags.
What can grocery aisle managers do to minimize waste of these bags?
Our custom-branded compostable produce bags use the innovative Pull-N-Pak® dispensing system, and we provide these free with orders of our bags. The Pull-N-Pak dispenser is unique because it offers customers single-hand dispensing of one bag at a time, and pre-opens the bag for the customer, presenting a wide opening that makes it easy to load large, wet items. The dispenser itself also has a narrow profile so it's easy to integrate it into tight corners and along the aisles.
Can these produce bags be customized and branded for individual stores?
Yes. We can print essentially any message or branded logo on these bags. We think that patrons of grocery, produce and bulk-food stores that offer these bags with their business name printed on them will appreciate the bags' positive environmental attributes and ease of use — resulting in increased goodwill.
What feedback are getting from supermarket managers?
The Natural Grocery Company is a great example. The company operates two stores in Northern California (in Berkeley and El Cerrito), and its produce and meat departments are dedicated to offering organic and natural products. The company's green initiatives include the use of solar energy and ensuring its waste stream is diverted to compost and recycling wherever possible.
Bob Gerner, general manager, says the enormous number of plastic bags the store was ordering every year was a primary driver to consider alternatives: "We decided to switch from traditional polyethylene bags to the new compostable bags made from Mater-Bi. It's never an easy decision to change to a more expensive product, but we wanted to do our part and help reduce the level of plastic going into landfills, the San Francisco Bay, and ultimately the ocean. Overall, the response from customers has been very favorable. People understand that these bags cost more and aren't quite as convenient, but they think we're doing the right thing. Someone needs to lead the charge and help change people's behavior. The bottom line is that eliminating about one million polyethylene bags from our stores is a significant benefit for the planet."
The new Mater-Bi, compostable produce bags and Pull-N-Park dispenser are available wholesale, exclusively through Excellent Packaging & Supply. These bags are only available with custom printing. Minimum order is 180 cases, and each case contains 1,920 bags (6 rolls of 320). To learn more about the range of bio-based, sustainable foodservice packaging products offered by Excellent Packaging, or to enquire about volume pricing, call (800) 317-2737.