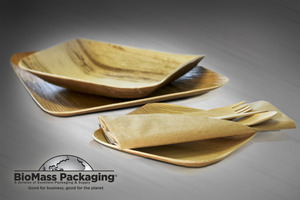 Recognizing that caterers and party hosts are extremely aware of the environmental costs of disposable dinnerware and cutlery, Excellent Packaging just added some planet-friendly alternatives to its range of place setting items. I asked Allen King to explain the thinking behind the new VerTerra and Eco-gecko products that are now offered by Excellent Packaging.
Why has Excellent Packaging added these items?
Excellent Packaging aims to to offer top-shelf, single-use dinnerware solutions to the foodservice industry. We continually search for the newest and best solutions to serving food using single-use dinnerware, and this search led us to two unique products from VerTerra and Eco-gecko that we thought complemented each other admirably.
What makes these place-setting products different?
Most bio-based and sustainable dinnerware is made from a combination of sugarcane fiber (bagasse), reed, bamboo, tree or wheat pulp. It is generally very environmentally friendly, but it just doesn't make the grade in the aesthetics department. Often, it just looks utilitarian. Contrast that with the VerTerra dinnerware, which is a work of art. Now add Eco-gecko cutlery to the place setting and you have a stunning way to present catered delicacies.
Tell us about the sustainable nature of these products.
Verterra environmentally friendly plates, bowls and serving dishes are made only from two products: fallen leaves and water. They're non-toxic, biodegradable, compostable, durable, lightweight, convenient and downright stylish. Better still, it performs like any other traditional single-use product. Meanwhile, Eco-gecko biodegradable and compostable wooden cutlery is made from FSC-certified birch wood that is taken from re-harvested plantation forests. This means that only as much wood is harvested as can grow back in the same time. Unlike the oil used in plastic cutlery, which takes the earth millions of years to produce, the re-planting and re-harvesting of birch trees is sustainable.
What are the target uses for these products?
VerTerra leaf plates combined with Eco-gecko wooden cutlery create the most elegant, refined and attractive bio-based and sustainable table setting in the single-use dinnerware marketplace. So we think they're a natural fit for upscale catered events and weddings, and warrant serious consideration by caterers, event planners and private party hosts who want to make a lasting impression with their guests. It's worth noting that, while these items are technically disposable — they are after all completely compostable — they are almost too nice to throw away, so why not re-use them?
To learn more about the range of sustainable VerTerra or Eco-gecko products offered by Excellent Packaging, visit BioMassPackaging.com. Volume pricing is available, for details call (800) 317-2737.