Enhance your customer's experience and help the environment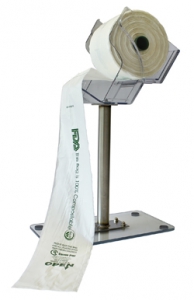 This innovative dispenser and bag design allow your customers to dispense a single, pre-opened produce bag, every time, down to the last bag on the roll. Not only does this reduce their frustration but it also decreases bag waste by up to 20%.
Compostable Produce Bags
The Pull-N-Pak Produce Bags are 100% compostable. They are made from Mater-Bi® a bioplastic that uses corn starch and other renewable materials, these bags are a compostable alternative to polyethylene-based plastic bags. Their larger size (15 x 20″) and wide-opening make it easy to load large wet items and the patented star-sealed bottom creates a stronger leak proof seal than any other bag on the market. Great for produce, bulk foods, meat and bakery items. Only available as a pre-printed, custom branded item.
Modern, attractive dispensing system
The Pull-N-Pak patented dispenser has a unique narrow profile and can be mounted just about anywhere or attached to a free standing base, making it easy to accommodate in any produce display. Additionally we provide the dispenser free with any pruchase of the produce bag.
Pull-N-Pak Produce Bag System Features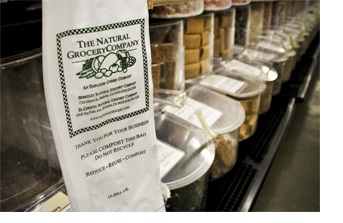 One-handed single bag dispensing

Pre-opened bags

Easy load wide-opening

Large capacity

Static-free

Strong, leak-proof, star-sealed bottom

100% Compostable
These bags are only available with custom printing. Minimum order is 180 cases, each case contains 1920 bags (6 rolls of 320).