As a member of the foodservice industry, you are probably constantly looking for ways to get a leg up on your competition. It is not always easy to stand out from the crowd in a positive way, especially when it comes to the smaller aspects of your business. However, if you choose to make the switch to environmentally friendly packaging for your products, you will be able to create a great selling point for your company and your food.
Features of Greenware® Products
Some of the highest quality, environmentally friendly food packaging products are made by Greenware®. These products are mainly cups, lids, and portion containers. All of these packaging materials have leak-resistant, snap on lids that make it easy to get to your food while giving you peace of mind that your food won't spill out. Because these products are clear, customers have the ability to see the entire product within the container. This makes Greenware® products perfect for displaying your food. To add to this advertising aspect, Greenware® products can also be printed with your company's name, logo, or messaging to make them more customized. If you prefer, you can also get these packaging items in 5 different colors to better match your brand.
Environmental Impact of Greenware® Products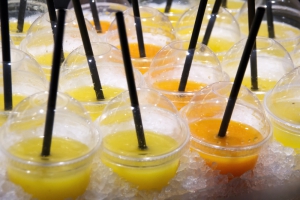 Greenware® packaging materials from BioMass Packaging are made from Ingeo, a polymer made using dextrose as opposed to oil. This material is created from plant products that are grown domestically and annually renewable. Rest assured; these products are just as durable and reliable as their petroleum-based counterparts. However, these plastics are 100% compostable when placed in industrial composting facilities. Because these facilities monitor both the moisture and temperature surrounding the products, Greenware® items can be completely composted in about 50 days.
Economic Benefit to Business Owners
In today's society, many people are aware and concerned with how products are made and disposed of. In a survey, it was found that 84% of people would view a restaurant or cafe more positively if it used Greenware® products. It also reported that 50% of patrons would visit a restaurant or cafe more frequently if Greenware® was used there. This means that your foodservice business could see an increase in sales and patrons merely by changing the packaging materials you use.
Do your part to make the world a better, cleaner, healthier place by introducing Greenware® products from BioMass Packaging into your foodservice business' cup and container inventory.