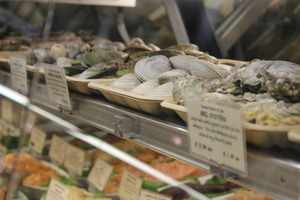 If you manage the meat, poultry or fish counter at a supermarket or grocery store, then you know how hard it is to find an alternative to polystyrene (foam-based) food trays. These trays are generally used to display and merchandise cuts of meat and seafood, including sushi, and can be shrink-wrapped and pre-tagged for checkout convenience.
Why is foam still popular, even though we all know that it's one of the most detrimental elements in the waste-stream? It's mainly due to the practical aspects of foam. Allen King, president of Excellent Packaging & Supply, sympathizes with the situation of supermarket managers: "Ask any environmentally conscious grocer what they think of polystyrene and they'll say they can't stand the stuff, but that it's a necessary evil because the alternatives just don't hold up to real use behind the meat, poultry and seafood counters. Customers also hate them because they cannot be recycled and have a high 'yuck' factor."
So, we set out to find an alternative that combined superior performance characteristics with a high environmental pedigree. The main challenge faced by supermarket trays, food containers and portion cups is simple: they must contain moist (and sometimes hot) food for an extended period, without going soggy and losing structural rigidity. Foam is great in this respect, and also has great insulation properties — although, as you'll hear later, that's not always such a good thing.
The brief was simple: locate a viable alternative that's not made from corn, trees or plastic, and that offers the required durability and sturdiness — even when used with fresh, moist food. And, of course, it would, ideally, biodegrade naturally as compost.
When we started looking for alternatives, here's what we found:
Often, they are manufactured from corn that is often genetically modified. (We prefer to use materials that are not otherwise used in food production.)
Others are made from some form of tree, which we view as a precious resource.
Many of them use bleach during manufacturing, which is bad for the environment.
If not nature-based, then they are made from plastic, which can be synthetic and may biodegrade, but is not necessarily compostable. In any event, it cannot be re-introduced into ecosystems as a nutrient.
We found many were less durable and sturdy than foam, which means grocers tend to double them up in order to attain the rigidity they require.
Then, we ran into the folks at Be Green Packaging. They have a range of foodservice trays and containers made from raw materials that are 100 percent tree-free and offer superior performance characteristics coupled with a high commitment to the environment. Their products are freezer-, microwave-, and oven-safe, making them some of the most durable plant-fiber products on the market. A key attribute of these trays and containers is that they are sturdy and can contain water, liquid and hot foods without compromising product performance.
We now offer a complete range of these trays and containers as replacements for the polystyrene containers that are typically used in the meat, poultry and seafood departments. The new line includes trays, containers and portion cups made from plant fibers that will compost in 30-90 days in both home and municipal composting environments — significantly reducing landfill waste. All items in the range are made from plant fibers, primarily bulrush, along with bamboo, sugarcane bagasse, and wheat or rice straw — these are all annually renewable agricultural resources that do not compete with food production.
Be Green Packaging holds certifications from the Cradle to Cradle™ Products Innovation Institute, Western Michigan University's Recycling Program, the Non-GMO Project, and the USDA BioPreferred Program. They have also started construction of a domestic factory in the USA that will produce their products using domestic, non-food raw materials within a year.
So, what do our customers think of them? They've been a hit. We're hearing that these supermarket trays and containers are successfully being used for ground meat, lamb, pork, roasts, cuts, poultry, fish, seafood, and sushi. Here's what Gena Allen, catering director at Sunshine Foods in Saint Helena, California, has to say about them:
"At last, we can use an all-natural product that works well and even looks good. We've been trying to move away from Styrofoam for years but everything else we tried couldn't hold up when in contact with moist meats and poultry. With these new trays, we can package pretty much anything and feel confident that it will present well and stay fresh. And, because they don't insulate, we can use them for seafood and not worry about the food spoiling even though it's on ice."
Ordering information
The new line of foodservice containers made from plant fibers is available direct from Excellent Packaging (www.excellentpackaging.com). To learn more about the Be Green Line of products or the wider range of bio-based, sustainable catering products offered by Excellent Packaging, or to enquire about volume pricing, call (800) 317-2737 or email [email protected]. For smaller order quantities, visit our online store: www.biomasspackagingstore.com.