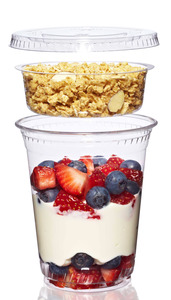 Standing in line at Starbucks the other day, I glanced at the cold case that was strategically located beside the line of customers. No, I wasn't hungry. It was more of a field survey of how a forward-thinking foodservice operator is taking advantage of the latest packaging innovations. Over the years, Starbucks has been quite vocal about its commitment to reducing its environmental footprint, with initiatives to reduce waste by carefully selecting recyclable materials, smart waste recovery and recycling programs, green building projects, and efforts to reduce water usage.
More recently, Starbucks has also turned its attention to nutrition by looking for ways to offer its customers a wider variety of foods that fit with consumers' busy lifestyles and concern for what they eat. As I scanned the array of sandwiches and drinks stocked beneath the tempting case of pastries, I noticed an example of how innovation in food packaging is enabling Starbucks to expand its range of healthy foods. The new "Peach Raspberry Yogurt Parfait" was stacked alongside a variety of other parfaits that Starbucks now offers, all contained in a clever packaging product that I like to call "modular packaging."
These new, single-serve food containers start with a basic cup (the ones we offer are made from NatureWorks® Ingeo biopolymer — a PLA-based material), and then add different modules to enable the addition of different ingredients that are combined by the customer to maximize freshness, taste and (in this case) crunchiness. The modules can include lidded inserts and, optionally, matching dome lids that can contain an additional ingredient.
This packaging transforms a regular cup into a versatile food packaging carry-all, giving foodservice operators endless possibilities for merchandising breakfast foods, lunch combos, and all-day snacks. Flexibility and sustainability are key attributes of this new packaging:
Up to three different ingredients can be offered in one grab-and-go format

Cup insert works with multiple cup and lid sizes to enable endless menu options

The insert may be flush-filled and covered with a flat lid, or covered with a dome lid that can also be filled with a meal ingredient

Inserts are suitable for heat sealing with most cup size

Custom notch design allows for easy insert removal

Every element of the packaging is made from plant-based Ingeo PLA plastic.
Innovations such as these are triggering diversity in the cold case at a variety of establishments, from coffee shops to hotels, delis, and supermarkets. These operators are looking for ways to offer their customers combination snacks and meals to packaged in sustainable, nature-based packaging. The examples are essentially endless: parfait+granola+fruit combos, fruit+toppings, chips+salsa, and salad+croutons+dressing. And it's a really eye-catching presentation.
Next time you're stuck alongside the cold case, take a peek. Maybe even buy something. After all, that would be essential market research, right?