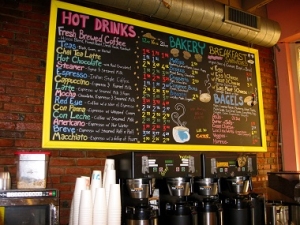 If you're in the market to start a coffee shop, you've probably heard a lot of rumors and been given a lot of advice about how to achieve success. Some things are pretty obvious when it comes to starting a business, like having a solid financial plan and choosing a great location. But what else do you absolutely need to know? Here are 5 of the best kept secrets for starting and running a successful coffee shop.
1. Keep It Fresh
We aren't just talking about the coffee here. If you want to run a successful coffee shop, keep your theme and menu fresher than the one down the street. First off, come up with some core menu items that people will always expect from a coffee shop, and then continually offer creative specials and add new items to the menu to keep customers interested.
2. Know Your Coffee
It's not nearly enough to know how to run a business in the coffee shop world. If you want to be successful, you need to know your product inside and out. If you demonstrate a thorough knowledge and love of coffee to your coffee-loving customers, it will show in your keen sense for great flavors, the best beans, new recipes, and a general good instinct that your coffee-loving customers will appreciate.
3. Be Wary of Trends
The world of coffee and machinery is constantly changing. Certain companies or coffee shop owners will try to tell you that their coffee brewing equipment is far better than yours and to update immediately. However, those tips are not always true. Be wary of the latest and greatest in coffee flavors and equipment, and do your research—thoroughly—to ensure that you aren't following a trend but a great product.
4. Get Environmentally Friendly Hot Cups
A very little-known secret of starting a coffee shop business is that environmentally friendly hot cups are known for increasing business. People love to see that you are doing your part to help the environment, and when your hot cups and lids show that they are 100% compostable and healthy for the environment, it can cement customer loyalty to your shop.
5. Focus on Customer Service
Ok, so this one isn't much of a secret, but it's often overlooked. It's not enough to simply tell your employees that the customer is always right. You need to build a world in your coffee shop that revolves around customer service. If that means stopping your work to clean up a spill so a customer doesn't have to, so be it.
Just remember that sometimes keeping up with a successful business means sacrificing a little here and there. But if you stick with it and remember the essentials, you're sure to be well on your way to success.