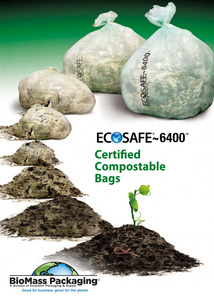 Has this happened to you? You go to empty your compostables garbage can and the bag disintegrates in your hand just as you lift it out of the container. Yuck! That won't happen with our new certified-compostable can liners.
These days, businesses want to send more of their food and organic waste to municipal composting facilities but don't know where to source strong and economical can liners that are accepted in municipal compost programs. We're trying to change that by offering super-tough bags in a wide variety of sizes that are approved for use at any compost facility that accepts restaurant or home food and yard waste. We're confident that these can liners outperform all other compostable liners in the marketplace.
They are ideal for any foodservice operation that is committed to reducing their landfill waste stream. This includes restaurants, cafeterias, hotels, and universities — just to name a few. The clever folks at EcoSafe took a long, hard look at what it takes to make a dependable and compostable can liner (which is basically a garbage bag designed for use in trash cans of all sizes), and came up with a bag that has checks in all the right boxes:
Specifically designed for the collection of pre- and post-consumer food waste

High strength and superior puncture resistance

Guaranteed to hold up to 50 lbs

Perform well with hot foods, including boiling-hot liquids

100% compostable – degrades in 10 to 45 days in commercial compost facilities

Meets both BPI and Cedar Grove standards for compostability

Available in a wide range of sizes for a wide variety of foodservice applications
But no matter how green and compostable a product, it also has to meet or exceed the specifications of its non-green alternatives. EcoSafe paid extra attention to the bottom of the bag and designed a unique, star-seal bottom that eliminates leaks and breaks. Another nice touch: sufficient elasticity to ensure it fits snugly around the top of the bin without splitting or slipping into it.
What about curbside collection? EcoSafe thought of that, too. These can liners are compatible with municipal curbside yard waste collection programs and are certified by ASTM D-6400 (the industry standard for plastics that are designed to be composted in municipal and industrial aerobic composting facilities). They have been approved for use in municipal programs that have extremely stringent requirements, including San Francisco's Dept. of the Environment.
Anecdotally, we've been hearing good things from our customers that are using these new compostable can liners. One customer noted: "We tested many brands of liners for use in our conference facility. Our janitorial staff unanimously selected EcoSafe liners over all competing brands." That was a ringing endorsement by the folks who actually handle the liners!
So there you have it: can liners — a great example of how a simple product can make a huge difference to what ends up in a landfill. We expect them to be very popular and we are carrying them in a wide range of sizes.