When your foodservice business needs high quality cold cups, lids, portion containers, and on-the-go boxes that are also eco-friendly, look no further than Greenware®, distributed by BioMass Packaging.
Greenware® products are made using green resources that will lessen your environmental footprint as well as provide an attractive element to your business. The products are created using annually renewable plants rather than a petroleum base, making it 100% compostable. Products are not recommended for home compost, but they are certified for compost in actively managed industrial compost facilities. The environmentally friendly aspect of Greenware® can be displayed on the containers using Greenware's stock print graphics to show your customers that you actively support a clean environment. The containers can also be custom printed with your own logo and/or messaging.
Not only is Greenware® environmentally friendly, but it is also economically friendly. It is manufactured in the United States and provides over 800 jobs for Americans across the country.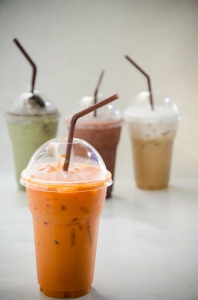 Greenware® has an 88% customer approval rate, showing the following statistics:
88% would be interested in using Greenware® in a foodservice establishment.
84% would view a foodservice establishment more positively if it offered Greenware®.
50% of patrons would visit a foodservice establishment more frequently if Greenware® was used there.
According to these statistics, using Greenware® could help build the reputation and customer approval of your business due to the environmental appeal.
Each Greenware® cup, lid, portion container, and on-the-go container is crystal clear, making it easy to see the container's contents. The cups have smooth rims to ensure safe, comfortable drinking. The lids are leak-resistant and snap to fit, but are easy to apply and remove. The material is resilient and resists flavors or odors so the contents won't stain the cup. Even though the product is made of plants instead of petroleum, the integrity of the product remains intact; it is designed to be as strong as petroleum-based plastic.
If you own or work for a business in the foodservice industry and want to help your establishment have a more positive impact on the environment, consider using the cups, lids, portion containers, and on-the-go container produced by Greenware® and BioMass Packaging. Both the environment and the economy will thank you.