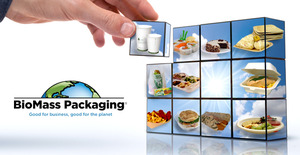 Today, we're launching a new website that offers a comprehensive destination for consumers and businesses looking for the widest selection of sustainable foodservice products. Here, at www.biomasspackaging.com, you can find information about specific products and topics related to green foodservice packaging. This blog is a part of our new web presence and will be a place where we will discuss trends in this fast-moving industry, new additions to our product line, snapshots of how biomass-based foodservice solutions are being applied by businesses, and updates on developments here at Excellent Packaging.
On that point, let me take a moment to clarify the relationship between Excellent Packaging & Supply and BioMass Packaging. Since its inception in 2004, Excellent Packaging has focused on wholesale distribution of both traditional packaging products and the latest green-certified products to foodservice operators of all sizes. Over the last seven years, we've established long-term partnerships with customers who needed specific packaging solutions from a reliable source that could provide consultation and other services beyond just products. During that time, one thing became very clear: increasingly, foodservice operators were looking for ways to integrate green and sustainable products into their operations because consumers were starting to request it.
For example: when UC Berkeley's dining services wanted a green alternative to the ubiquitous foam clamshell, they selected our solution as the best fit to their need — the world's first three-compartment clamshell made from bagasse, printed with their logo, and embossed with a green message to the students. Similarly, when a large, cellular phone manufacturer decided to make the cafeterias at all 15 of its American facilities green, Excellent Packaging was able to ship an adequate supply of the selected products to each facility within the two-week window given to the food management company to accomplish this changeover.
As we became more involved in locating the right solutions for our customers, we inevitably had to define what green and sustainable mean to us. A 1987 United Nations conference defined sustainable developments as those that "meet present needs without compromising the ability of future generations to meet their needs" (WECD, 1987). We define it by applying this definition to our industry. We use annually renewable resources such as vegetable starch, wheat stubble, sugar cane waste fiber/bagasse to make our products. When possible and practical, we source our products domestically. We always clearly identify our products' ingredients so a consumer will have no confusion about what it's made of and can become more informed about the level of "greenness" of a given product.
As we increased our focus on sourcing and commercializing a rapidly expanding line of sustainable foodservice solutions, we decided to create a branded online destination to make it easy for anyone from a Cub Scout pack to a small business to locate and order exactly what they need. Then, in 2010, we launched BioMassPackagingStore.com, and have watched it grow quickly – we now offer more than 450 products online, spanning categories that include items for food service and presentation, containers, kitchen and janitorial supplies, and point-of-sale supplies. This online store carries products from the biggest names in the business as well as up-and-coming suppliers that we feel our customers will like. In some cases, we're even partnering with inventors to connect them with the right suppliers and to help them get their idea through trials and onto shelves as a product.
As of today, BioMassPackagingStore.com is now an integral part of BioMassPackaging.com, which is owned and operated by Excellent Packaging. If you're a long-time customer who's known us as Excellent Packaging, nothing changes — although we'll be introducing you to more of our sustainable packaging products.
If you're a foodservice operator with specific needs – contact me directly and I'll be happy to assist you. And, of course, please visit our store to see if we can address your needs immediately with our fast shipping of the hundreds of products in our warehouse.
I look forward to serving you.
Warm regards,
Allen King
President
Excellent Packaging & Supply
Richmond, California
Email
(510) 501-3307